Camp Cooking 101: Tips and Tricks for Delicious Meals
Camping is a great way to get away from it all and enjoy the great outdoors, but it can also be a challenge when it comes to mealtime. Without access to a full kitchen, preparing the kinds of meals you're used to at home can be difficult. But don't worry – with some planning and basic camp cooking skills, you can enjoy delicious and satisfying meals at Jellystone Park™ at North Port Huron.
Camp Cooking Tips
Plan Ahead
Make a list of the meals you want to cook and the ingredients you'll need, and bring along any non-perishable items in advance. This will save you time and effort once you get to the campsite.
Keep It Simple
Choose recipes that are easy to make and don't require too many ingredients or utensils. Grilled meats, foil packet dinners, and one-pot meals are all excellent options.
Pack Smart
Bring along lightweight, compact cooking gear such as a camping stove, pots and pans, and utensils. And pack plenty of Ziploc bags for storing leftovers. If you are tent camping, don't forget the cooler and ice for perishable items. We have ice at the Ranger Station, so you can replenish your cooler anytime!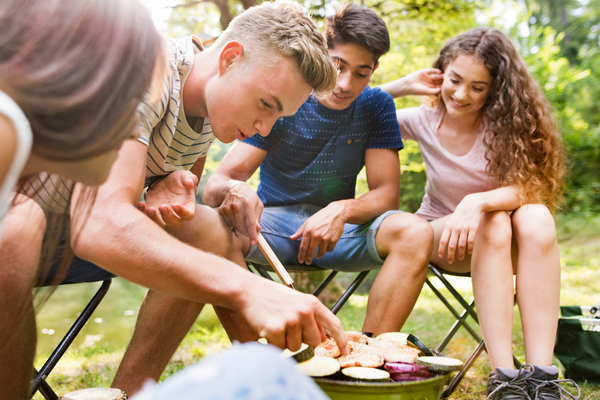 Make Use of The Campfire
A campfire is a great way to cook a variety of meals, from grilled burgers and hot dogs to foil packet dinners. No matter if you and the family reserve a campsite or cabin, all sites come complete with fire rings!
Stay Organized
Use small containers or baggies to store spices, seasonings, and small ingredients, and label these camp cooking items to avoid confusion.
Don't Forget The Dessert
Camping is a great time to indulge in sweet treats like s'mores, fruit cobblers, and chocolate fondue.
Enjoy the Cooking and Camping in the Great Outdoors
With a little planning and some basic camp cooking skills, you can enjoy delicious meals that will make your camping experience at Jellystone Park™ at North Port Huron even more delightful. So get creative, have fun, and savor your time in the great outdoors!
Take Advantage of Savings, To Camp More & Save More With Special Offers