LODGING
Deluxe Cabin
Check-In is 4pm (EDT) | Check-Out is 11am (EDT)
Note: Most of our cabins are not pet-friendly. If you are bringing your pet, please look for the pawprint on our booking site. Rates may increase for weekends, holidays, or special events. Camping is an outdoor experience, and accordingly, we do not offer refunds due to the whims of Mother Nature.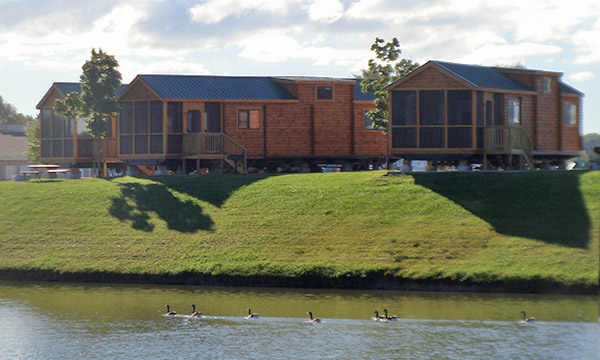 Perfect For Large Families
The Deluxe Cabin includes a screened porch, offering guests a bit more privacy and a reprieve from insects. This cabin for 8 has a separate bedroom with a queen bed, a set of bunk beds, a futon, and additional sleeping pads in the loft. A fully-furnished kitchen, separate bathroom, and dining area are additional perks for a memorable family getaway.
Amenities for the Delta Deluxe Camping Cabin include:
Lakefront View
Heating & Air Conditioning
Cable TV
Stove/Oven
Full-Size Refrigerator
Microwave
Toaster
Coffee Maker
Pots/Pans
Dishes
Cooking Utensils
Bathroom with Shower
Dining Table/Chairs
Screened Porch
Grill
Fire Ring
Picnic Table
Starts at $225 per night
Book Now