Strike Gold with Gem Mining at Jellystone Park™
Hey there, treasure hunters! Ready to dive into a glittering escapade? Our gem mining activity is a surefire way to add some sparkle to your stay at Jellystone Park™ North Port Huron.
Here's how you can dig into the fun!
Bucket-Loads of Adventure
At our camp store, you can purchase a bucket of "mining rough" that's chock-full of hidden surprises. It's an excitement-filled container waiting to rock your world!
Sluice the Day Away
Take your bucket over to our rustic mining sluice, pour in your mining rough, and let the water unveil the hidden treasures. It's sluice like old times but with a modern, playful twist!
Geology Rocks
Our gem mining isn't just a blast; it's a hands-on lesson in geology! Discover different gemstones and fossils, and maybe even spark a lifelong love for rocks and minerals. It's edutainment at its finest!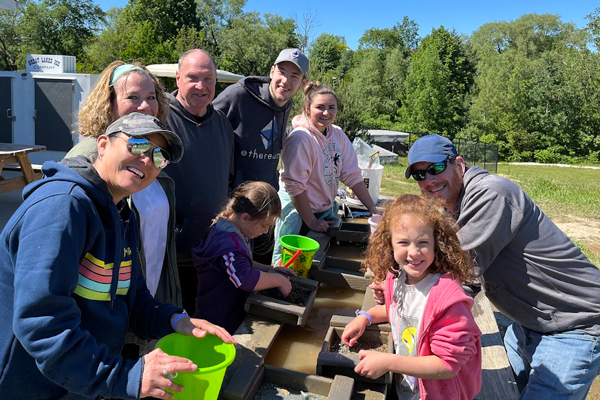 Family-Friendly Fun with Gem Mining
Gem mining is a pickaxe above the rest when it comes to family activities. It's a low-key, high-reward adventure that's perfect for fortune seekers of all ages. It's all about bonding over the bonanza!
A Gem of a Memory
At Jellystone Park™ North Port Huron, we're all about creating sparkling memories that last a lifetime. Our gem mining activity is your chance to dig up some cherished moments that will be treasured long after you've struck gold.
So come on down, grab a bucket, and discover what shiny delights are waiting for you at Jellystone Park™ North Port Huron. It's a one-of-a-kind venture that will leave you with pockets full of precious memories and gems to take home!
Pave Your Way to A Gem of a Vacation