Combine Halloween Traditions & Camping at Jellystone Park™
At Jellystone Park™ at North Port Huron, we absolutely love Halloween so much that we celebrate all of the traditions and more 5 full weekends in a row! But have you ever wondered how Halloween traditions came to be? They were most likely a result of a hodgepodge of traditions from around the world. The following are a few theories shared about the holiday's origins.
The Origins of Halloween Traditions
Carving Pumpkins
The practice of carving pumpkins originated in Ireland, where folks carved scary faces in turnips to ward off bad spirits. Settlers to America brought the jack-o'-lantern tradition with them. But instead, they used pumpkins, a fruit native to our nation. Centuries later, we continue the tradition, carving scary and silly faces in pumpkins and displaying them for all to see!
Wearing Costumes
Wearing costumes on Halloween may have likely originated from the ancient Celtic festival of Samhain. With all the ghosts believed to be wandering around the Earth during Samhain, Celtics would dress up to "blend in" so they would be mistaken for spirits themselves and left alone. Nowadays, everyone, young and old, dresses up for the sheer fun of it.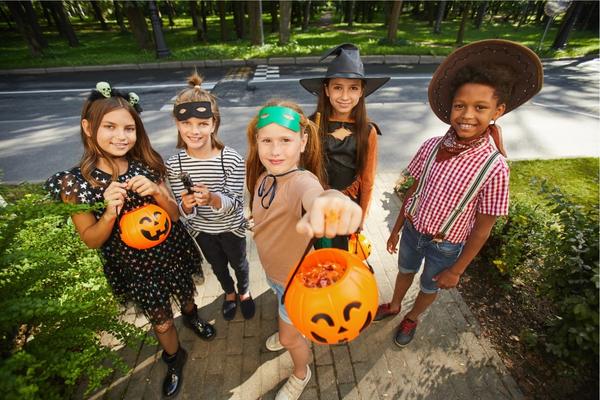 Decorating With Black & Orange
There are many theories as to how the colors of Halloween came to be. Many speculate that orange represents the colors of autumn–pumpkins, leaves, and chrysanthemums. Black, on the other hand, could symbolize the end of summer, soon-to-come dark, cold winter, or simply represent Halloween folklore-witches, cats, and bats.
While the primary color pallet remains the same, this doesn't stop families from sprucing up their homes (and campsites!) with all sorts of colors and decor!
Going Trick-or-Treating
There is a lot of debate about the origins of trick-or-treating. One theory points to early German-American communities where children would dress in costumes and ask others if they could guess their identities. If a child's identity was not guessed, the child would receive a treat as a reward.
Experience All Kinds of Halloween Traditions at Jellystone Park™
At Jellystone Park™–North Port Huron, we are in the midst of Halloween Spooktacular Weekends! If you missed the first few weekends, we still have more planned in October before our 2022 camping season comes to a close. So be a part of all the Halloween traditions, including arts and crafts, pumpkin carving, costume contests, a campsite/cabin decorating contest, trick-or-treating, and more! Halloween Spooktacular Weekends continue on the following dates. Book your stay early before spots fill up!
Weekend 3: September 30th – October 2nd
Weekend 4: October 7th – 10th
Weekend 5: October 14th – 16th
Keep the Traditions Going This Halloween Season at Jellystone Park™