6 Halloween Hacks: Make The Most of Spooktacular Weekends
Costumes and pumpkins and candy, oh my! We don't think it's enough to celebrate Halloween only once a year. At Jellystone Park™ at North Port Huron, we dedicate five consecutive weekends to the eerie-sistible holiday, beginning mid-September! Experience a Spooktacular Weekend with the family and use these Halloween hacks to make your stay even more fa-boo-lous!
About Our Spooktacular Halloween Weekends
Each Halloween Spooktacular Weekend includes loads of fun and plenty of scares! Join us for arts and crafts, pumpkin carving, costume contests, and a campsite/cabin decorating contest! And, don't forget to bring candy for the trick-or-treaters.
Our Spooktacular Weekends happen not once…not twice…but five times in September and October, Fridays thru Sundays, on the weekends listed below:
September 16th – 18th
September 23rd – 25th
September 30th – October 2nd
October 7th – 10th
October 14th – 16th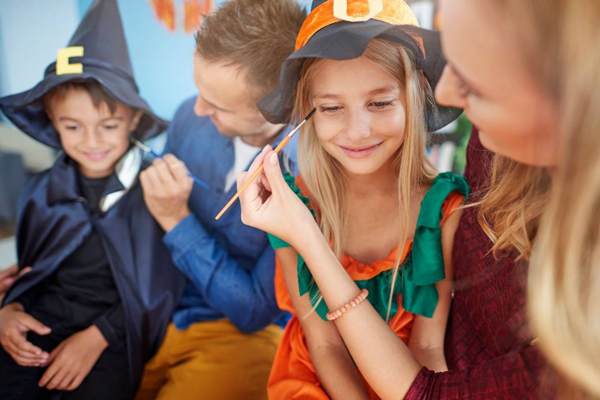 Have A Ghoulishly Good Time With These Clever Halloween Hacks
Make the most of your Spooktacular Weekend with these super simple and quite clever Halloween hacks!
Hack #1:
Halloween Spooktacular Weekends are way more fun when everyone dresses for the occasion. Bring your costumes, a different one for every day of your stay if you'd like! For costumes on a budget, you can create a devilishly fabulous getup by using items from around your home or even picking up a few things from your local thrift store or Dollar Store.
Hack #2:
As a family, come up with ideas on how to decorate your campsite or cabin for the weekend. Adding themed lights is the quickest way to bring some Halloween ambiance. Hang a string of orange LED lights to your RV awning, or decorate your cabin porch with paper bag jack-o-lanterns lit up with battery-operated LED tea lights. Add a festive tablecloth to the picnic table, a lawn flag, and sit a stuffed scarecrow or bony skeleton on your camping chairs.
Hack #3:
When it comes to pumpkin carving and decorating, if you don't want to fuss with sharp tools, especially around the little ones, use items like glitter, stickers, and water-based paint such as acrylic or tempera paint to decorate.
Hack #4:
The treats may not disappear quite so quickly with all the candy your little monsters will gather during the weekend. If you find yourself overwhelmed with treats, here are a few ways to make use of leftover Halloween candy.
Freeze it and add to milkshakes, sundaes, ice cream, and cookie dough later.
Make your own trail mix by adding pretzels, nuts, and dried fruit to leftover candy like M&Ms.
Hack #5:
End your eventful days on a yummy note around the campfire with bewitching s'mores. Simply substitute marshmallows for Halloween-themed Peeps. Big-box stores like Wal-Mart and Target sell these sweet treats in the form of jack-o-lanterns, ghosts, black cats, and Frankensteins. To make, roast a Peep over the campfire and sandwich in between graham crackers and chocolate pieces. Delicious!
Don't Miss a Minute of the Halloween Hoopla
With almost 400 campsites, close to 40 cabins, a 20-acre private lake, countless amenities, and weekends filled with spooktacular celebrations, getting around Jellystone Park™ at North Port Huron might be quite the undertaking.
#6 of 6 Halloween Hacks:
Cruise the campground easily when you use our "Ride In Style" golf cart promotion! Rent any golf cart for two or more nights and receive 25% off the daily rate using promo code: RIDE. (Promotion Ends: 10-16-22) Don't miss out on all the awesome Halloween hacks!
Book Your Halloween Spooktacular Weekend Early! Spaces Fill Up Fast!