6+ Water Activities To Dive Right Into At Jellystone Park™
With its longer days and higher temperatures, summertime is the best time for lots of outdoor fun in the sun and playing in the water! At Jellystone Park™ North Port Huron, families will find an array of fun-filled water activities that everyone in the family can dive right into!
Exciting Water Activities For All Ages
Water Zone Fun
The Water Zone swimming pool complex features various water activities like an Activity Pool with basketball, volleyball, and floating toys, along with a Kiddie Pool with spray features and mini slides.
Wibit™ Obstacle Course
The Wibit™ floating aqua park has become a hit for children and adults of all ages. You know what we mean if you've ever climbed, slid, hung, crawled, or jumped on it!
Swimming Beach
Lounge, swim, float, and build a sandcastle at our swimming beach. It's a great way to relax the day away!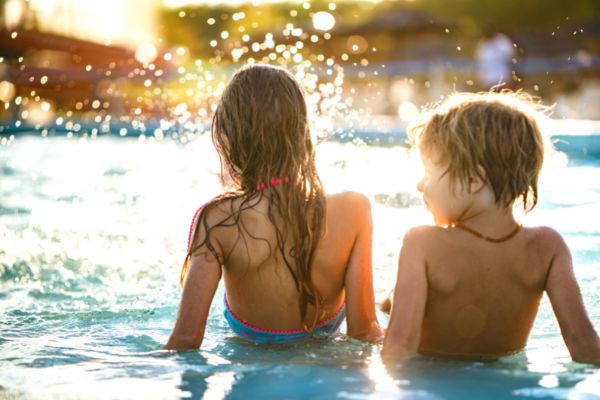 Gem Mining Station
Find the Motherlode at our gem mining sluice! Feel like a real miner and experience what it's like to pan for gold! First, purchase a supply of "mining rough" at the Ranger Station, and then use the sluice to uncover your finds! Flowing water washes away the sand and grit to reveal your treasures!
Fishing
Don't forget to pack your rod and bait! Our stocked lake has plenty to catch and release!
Boating
Row, row, row your boat gently down the lake. Enjoy a leisure float on our 20-acre private lake! Rent a paddleboat, canoe, rowboat, or kayak. Or bring your own personal non-motorized boat and head out on the lake for the afternoon.
New Water Additions Coming Soon!
Jellystone Park™ North Port Huron is getting a bit of a facelift this season (and next summer) with all sorts of new water activities. We're making a SPLASH with a brand-new splash park, additional Wibit water obstacles, and Water Wars! Stay current on our progress via Facebook and by subscribing to our newsletter!
Come Make a Splash This Summer at Jellystone Park™ North Port Huron!