Easy Campfire Recipes For Morning, Noon, & Dessert Time
Don't limit your campfire meals to the usual hotdogs and burgers. Spice up outdoor cooking in a cinch with these super delicious and doubly easy campfire recipes on your next summer camping trip. Your kiddos and tummies will thank you for it.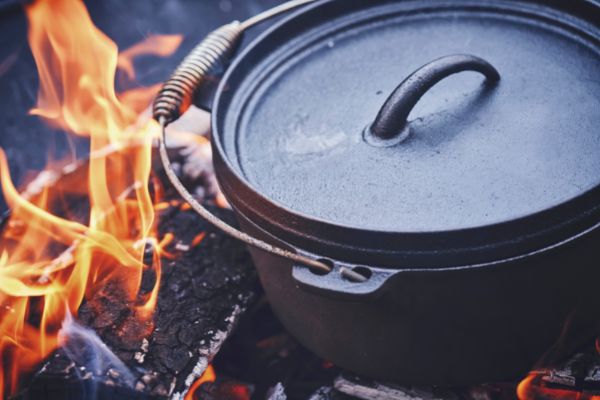 Delicious & Easy Campfire Recipes
Peanut Butter Oatmeal
Transform that bland breakfast oatmeal.
You'll need: 
1-3/4 cup water
1 cup dry oats
2 tablespoons peanut butter
2 tablespoons honey
Salt
To make: 
Bring water and a sprinkle of salt to a boil
Add oats and cook for 5 minutes
Remove from heat and stir in peanut butter and honey
Dutch Oven Quesadillas
Dutch ovens are a fun way to prepare campfire meals.
You'll need: 
Corn or flour tortillas
Pepper jack cheese or your choice of cheese
Black or pinto beans
Ground beef or shredded chicken
Additional fillers/spices: chopped onions, peppers, tomatoes, corn, cilantro, garlic powder, chili powder, cumin, red pepper flakes
Salsa and sour cream to dip
To prepare the Dutch oven: 
Place an empty Dutch oven over hot coals in your campfire
Place a few coals on the lid and let heat up for 10 to 15 minutes
To make the quesadillas: 
Spray a long piece of foil with cooking spray and lay a tortilla in the center
Top with ingredients
Place a second tortilla over those toppings, creating your first quesadilla
Spray the new top tortilla lightly with cooking spray, add another tortilla, and repeat the process
Make a stack of 3-4 quesadillas before wrapping them tightly in foil
To cook:
Use safety measures when removing the lid of the Dutch oven, and insert one or two foil packets of quesadillas inside before replacing the top
Heat 5-10 minutes or long enough to melt the cheese. Flip the packets for even heating.
Once ready, carefully remove and serve with your favorite dipping sauce
Campfire Donuts
Save the sweetest of the easy campfire recipes for last
You'll need: 
½ cup white sugar
¼ teaspoon ground cinnamon
Can of refrigerated biscuit dough
Melted butter
To make: 
Mix sugar and cinnamon in a bowl and set aside for later use
Cut each biscuit into thirds, and roll into balls
Skewer on a roasting fork, and cook over hot coals, turning constantly
Once golden brown, remove from heat, dip into melted butter, and then roll in cinnamon sugar
Let Us Take Care of Some Meals
While cooking easy campfire recipes at your campsite or cabin is one of the best parts of camping, you may not feel up to it for every meal. In that case, let Jellystone Park™ at North Port Huron and the Cartoon Café take care of mealtime on your off time! Swing by for a delicious meal the whole family will sink their teeth into.
Gather Around The Campfire With Good Food and Great Company!