Camping Bucket List For The 2022 Season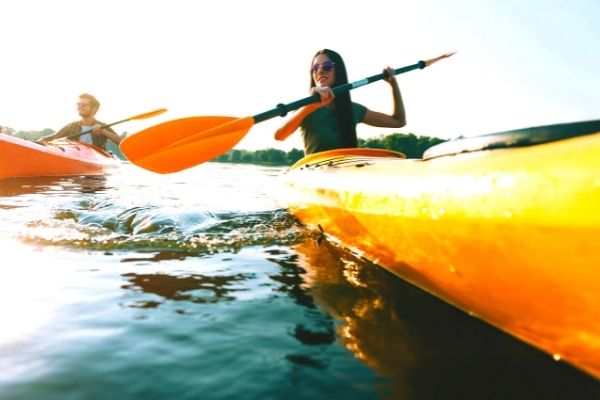 Camping Bucket List Ideas
Swim and Splish-splash
Play basketball or volleyball after a couple of swim laps all in our heated activity swimming pool or plunge into the refreshing water at the swim beach. Let the kiddies delight in water fun at the Splash Zone. And for a challenge, brave the exhilarating wet n' wild Wibit™ Obstacle Course! The kids can release their "zoomies," and everyone gets exercise! Just don't forget the sunscreen; sunburns are never fun!
Go Boating on the Lake
There's nothing better than being out in the water! We offer various boat rentals like paddle boats, canoes, rowboats, and kayaks for use on our 20-acre private lake. Enjoy the fun and serenity of floating and paddling on a peaceful lake. You may spot fish swimming underneath.
Stargaze with Apps
The night sky is quite magical and can be viewed with the help of a telescope. But when you don't quite have the packing room for one, your smartphone will do just fine! The best stargazing apps bring the splendor of the night sky right into the palm of our hands, transforming your mobile devices into a portable planetarium! Adults and youth can download these apps in Android and iOS versions.
SkyView Lite
Star Walk 2 and Star Walk Kids
NASA
SkySafari
Try New Campfire Recipes
You don't have to abandon your easy, go-to campfire recipes, but perhaps try a different dish or modify a side or dessert. For example, instead of hotdogs, try kabobs over the fire, or substitute the usual ingredients used for s'mores. Lemon Meringue S'more, anyone?
Completely Unplug
On your next camping trip to Jellystone Park™ at North Port Huron, make it a point to put your devices away. Instead, devote this time to quality time with the family. Connect more deeply with yourself, your family, friends, and nature.
Become a Club Yogi™ Rewards Member
Of course, you and the family may need multiple trips to check off all the camping bucket list items and experience all that we offer, so multiple stays may be warranted. In that case, if you haven't already, sign up for our fantastic Club Yogi™ Rewards!
As a Club Yogi™ Rewards member, you will earn Club Points each time you stay. Members earn 5 Club Points for each dollar spent on tent sites, RV sites, rentals, and other qualified purchases, and you'll have access to members-only benefits.
Club Points will accumulate in your account until you are ready to redeem for free nights!
Bucket Lists: Big and Small
There are endless camping bucket list items to check off this season, and they do not have to be huge experiences. While thrilling adventures are fun and memorable, enjoying even the small moments of the camping season can be just as meaningful.
Fulfill Your Bucket List This Camping Season!