4 Tips For First Time Campers
Camping for the first time can be both adventurous and overwhelming. To ease into the swing of overnighting in the great outdoors, first time campers may want to opt for a campground or resort that offers amenities instead of roughing it in the backcountry.
This way, you can practice the basics like setting up camp and enjoying outdoor activities while still having conveniences, including clean bathhouses, a camp store, and more, just steps away. Jellystone Park™ at North Port Huron is just the basecamp to jump-start your camping journey!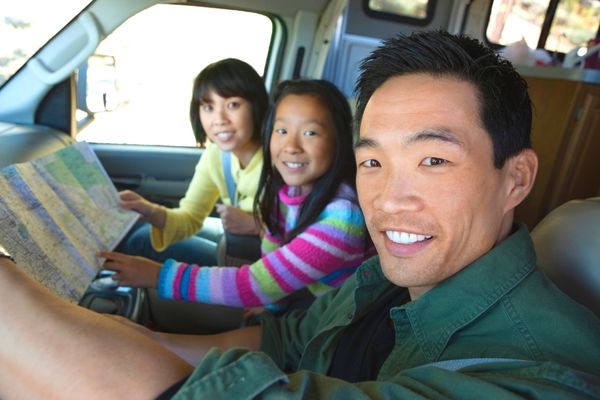 Tips For First Time Campers
Reserve A Site In Advance
Nowadays, it seems like almost every campground, resort, and national and state park, especially in popular destinations, is booking up fast. To have a reasonable chance of snagging a reservation for the peak times during the summer, try to make a reservation as early as possible. Several months in advance is best.
At Jellystone Park™ at North Port Huron, families get the best of both worlds–a park packed with all kinds of thrilling attractions along with easy access to Lake Huron and other beautiful in-land lakes! In addition to our fantastic activities, we're always celebrating throughout the summer during our theme weekends. Don't miss the opportunity to join in on all the entertainment and festivities. So book your camping trip soon.
Practice Backing Your RV Into A Space
As first time campers, this may also be the first time you are trying out your RV. If you have little to no experience moving trailers around, maneuvering your rig into a back-in site may require some practice time to ensure that you can settle into your RV site efficiently.
To help with this, find an empty parking lot and practice backing up your motorhome, fifth wheel, or travel trailer several times until you've mastered the task. Bring along your travel partner to act as a second pair of eyes and help guide the way, just as if you were at the camp-resort.
At Jellystone Park™ at North Port Huron, families can RV in cozy back-ins or, if they prefer, convenient pull-thrus. We also offer full and partial hookups!
Make A Checklist
While you're packing for your first camping trip, use a camping checklist to ensure you stock up on the things you need for the entire family (including the pup).
Whether you are camping in a cabin, tent site, or RV site, some items you'll want to consider packing are:
● Campfire cooking items
● Clothing and footwear based on the weather
● Personal hygiene products
● Sun and bug protection
● And these other essentials
Of course, if you forget to pack certain supplies, you can always stop by our Ranger Station Camp Store at Jellystone Park™ at North Port Huron and pick up some items. We are conveniently stocked with grocery items, general camping items, RV supplies, and more!
Arrive At The Campground Early
If you've never been camping, it's good to arrive early enough to get settled into your site and learn the campground layout during daylight hours. Then, the whole family will have even more time to enjoy all the amenities and activities from day one!
Make Your First Camping Trip Easier
First time campers (and veteran campers) may want to make their experience easier by adding a golf cart to their vacation! Get around the park in a fraction of the time, grab firewood and other essentials at the camp store, and drop the kids at the swimming beach. A golf cart rental can be added to your reservation when you book your stay or upon arrival at check-in (if available).
This Is The Start Of A Beautiful Camping Adventure!