Fun & Helpful Tent Camping Tips for a Great Family Adventure
Tent camping is a great way to enjoy the great outdoors with family and friends. At Jellystone Park™ at North Port Huron, our tent sites offer a perfect blend of a rustic camping experience and all the amenities and activities of a family resort. To help you make the most of your family stay, here are ten tent camping tips for a great family adventure!
10 Must-Know Tent Camping Tips for Your Next Family Trip
1: Choose the Right Tent
Choosing the right tent is crucial to your comfort and safety during your camping trip. Consider the size of your family and how much gear you need to accommodate when selecting a tent. Also, consider the weather conditions you might face and choose a tent with adequate ventilation and waterproofing.
2: Arrive Early
Arriving early at the campsite gives you enough time to set up your tent, explore the area, and settle in before nightfall.
3: Pack Warm Clothing and Bedding
Even during the summer months, nights can get chilly. Pack warm clothing and bedding, such as sleeping bags, blankets, and extra layers, to keep you and your family comfortable.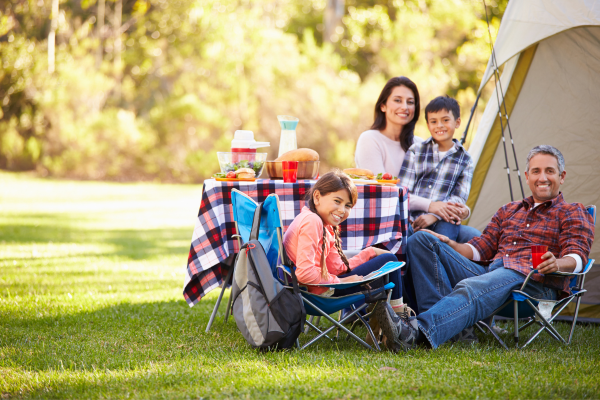 4: Create a Checklist
Creating a camping checklist helps you remember everything you need for your trip, from food and cooking utensils to toiletries and first aid kits. Check off each item as you pack to ensure you remember everything.
5: Bring Plenty of Snacks and Drinks
Camping is an excellent opportunity to indulge in your favorite snacks and drinks. Pack plenty of snacks and beverages to keep you and your family hydrated and satisfied. And remember, you can always stop by the camp store to stock up on camping goodies.
6: Take Advantage of Park Amenities and Activities
Jellystone Park™ at North Port Huron offers a range of amenities and activities for all ages, on and offshore! Take advantage of all these activities and theme events to make the best of your family camping adventure.
7: Build a Fire Safely
When building a fire, use the designated fire ring and keep flammable materials at a safe distance. Ensure the fire is entirely extinguished before leaving it unattended, and never leave the fire burning overnight. These tent camping tips will help you build a fire safely while keeping your family and the campground safe.
8: Follow Leave No Trace Principles
Always leave the campsite better than you found it by following Leave No Trace Principles. This means packing out all your trash, minimizing your impact on nature, and respecting wildlife.
9: Plan for Outdoor Cooking
Cooking over an open fire or on a camp stove is a quintessential part of the camping experience. Plan your meals and pack the necessary cooking gear.
10: Delight in the Rustic Camping Experience
Embrace the simplicity of the outdoors and use the fire ring and picnic table provided at your tent site. Use this opportunity to bond with your family and create lasting memories.
Tent camping at Jellystone Park™ at North Port Huron is an excellent way to have fun in the great outdoors with your family and friends. With these tent camping tips in mind–the proper planning, gear, and mindset–you can create unforgettable memories and enjoy your camping adventure! To the fullest.
Explore Even More Ways You Can Camp at Jellystone Park™ at North Port Huron